Bravo House/Casa Rosa
Built in 1870 by William Barbee for Francisco Bravo, La Casa Rosa was originally called "Bravo's New Saloon." This two-story, commercial building constructed in the Monterey style is an essential element of the historic fabric of Third Street. Barbee charged Bravo $4.00 per day for the construction and an additional $25.00 to paint the building; it took 125 days to complete the contract on January 16, 1870.  Over the years, it has been a saloon, hotel and gambling place, tea room, and a restaurant serving lunch six days a week.
In 1935, needing to supplement her family's income, Bertha Campbell Cole located this building that had become a vacant hotel; she renovated it, painted it pink and named it "La Casa Rosa." In May 1937, she opened it as a tea room, serving the "California Casserole," a special Mexican recipe given to her aunts by the daughter of General Vallejo, who had been commandant of the town of Sonoma, where Bertha Campbell Cole was born, before California became a state. Mrs. Cole's clientele was very select and included movie stars and the wealthy from Carmel. Some notable guests over the years include Charles Laughton, Alfred Hitchcock, Kim Novak, Betty White, Vincent Price, Beverly Sills, and James "Jimmy" Stewart.
On April 28, 1950, La Casa Rosa reopened under the management of Mr. and Mrs. Eugene Dirksen of San Francisco, who purchased the restaurant from Mrs. Cole. They continued to serve the California Casserole made famous by Mrs. Cole, and added a French casserole, as a chicken or seafood soufflé.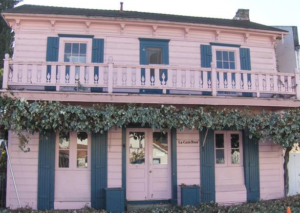 At some point, the Dirksens sold to Tim Morrow, who then sold to Mr. and Mrs. Joseph Shockey of Concord in 1964, and the Shockey family owned and operated both the restaurant and mail order business until 2017. Their son Charlie acquired the property in 1973 and followed the founder's precepts. The robust mail order business began with their popular Fresh Herb French Dressing; they also offered a wide array of tasty jams, preserves, and marmalades in addition to savory fruit chutneys.
Today the Victorian building is currently undergoing renovation.
SaveSave
SaveSave
SaveSave